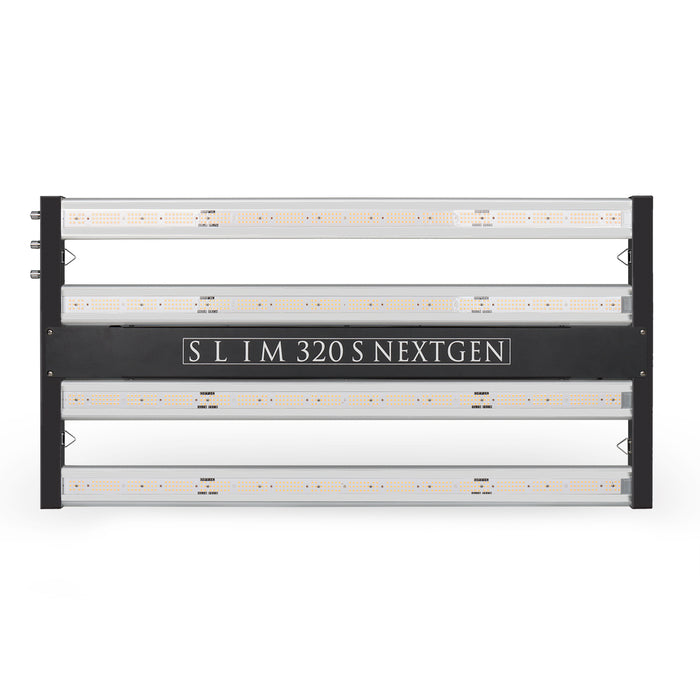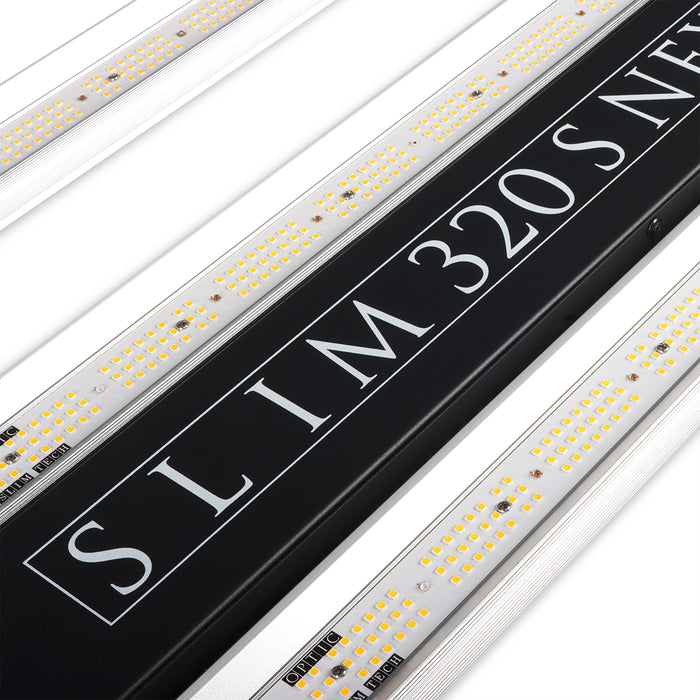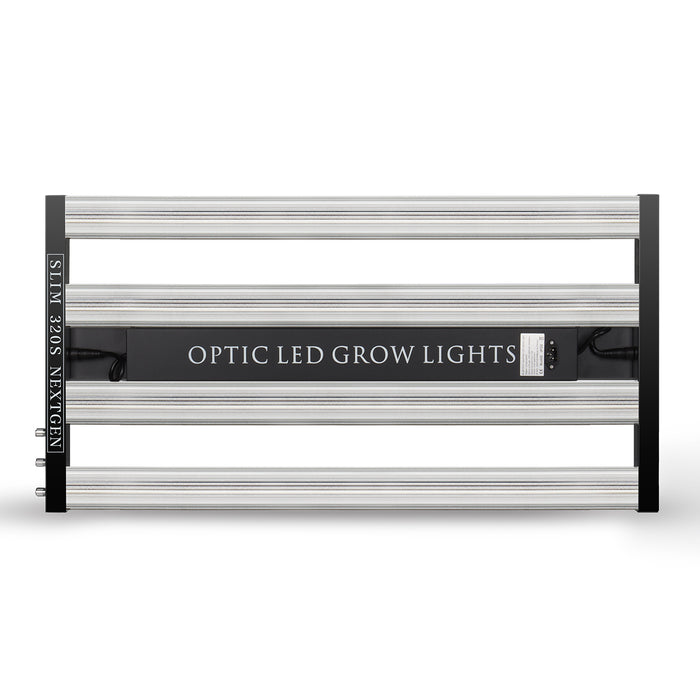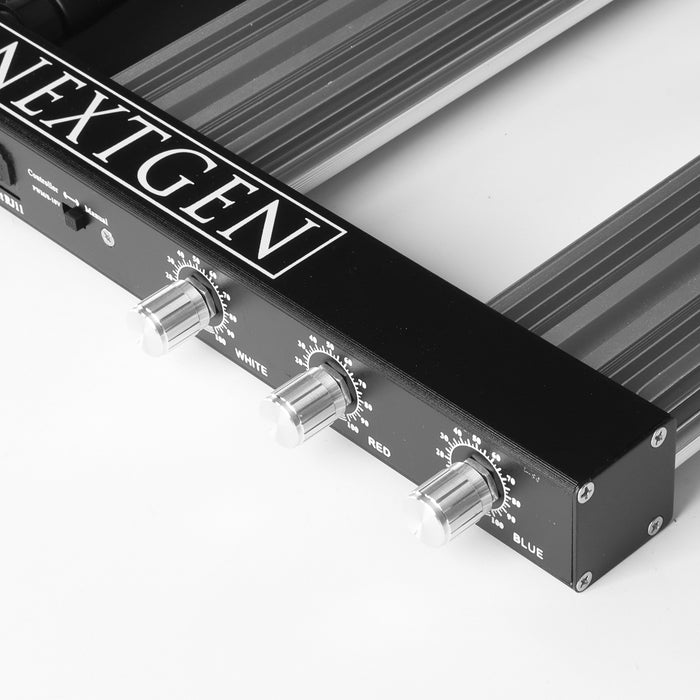 Slim 320S NextGen Dimmable LED Grow Light Triple Dimmer (UV + ir) 320w (3500k) LH351H V2
NEXTGEN with new Triple Row Samsung Boards!! 


                     Canada Orders:
 7-10 Business Days delivery time
                      Japan & Europe Orders: 
7-10 Business Days delivery
Slim 320S gen3 is true innovation at its finest. Loaded with all your favorite grow tech and features. The new Samsung LH351H Deep RED LEDs rated at 3.75 umols/J And the new Samsung LH351H Royal Blues, Paired with the Samsung White LM301H LEDs which are above 3.1 umols/J when using at least 5 LEDs per watt. New Triple Dimmer design with 3 independent meanwell drivers is what the growers have been asking for and now we deliver it with the upgraded generation 3 Tech.
          Slim 320S NextGen  is equipped with the Best Proven high end components in the industry but is also designed to last twice as long as all other grow lights today. The updated look is jaw dropper with this timeless engineering with the Triple Dimmer RED + (UV & ir) , White and BLUE Dimmers all independently operable. Add the Optic Touch Screen Controller for auto sunrise and dimmer settings through the day to mimic mother nature to the fullest extent possible. Unprecedented Light spread in a 2' x 4' (.6m - 1.2m) area with heavy PAR around the edges.
    The Optic LED 7" Touchscreen Master controller. The automated sunrise & sunset leads to less plant stress resulting in higher yields, saves you a lot of power cost and reduced air conditioning costs. Most importantly your plants will love you even more.
Samsung LH351H v2 - 3.75 umols/J Deep Reds
253-881-1355

 or 

inquire at Sales@OpticLEDGrowLights.com
- For Commercial Quantities email us for special pricing. 
- CommercialGrower@OpticLEDGrowLights.com
Coverage Footprint:
Flower:                                           Veg:           
2' x 4' area (.6m x 1.2m)                2' x 4' area (Max 4' x 4')
Max: 3' x 5' area (.9m x 1.5m)   


Hanging Height & Dimmer Settings :  
Seedling: 48"+    / 25% Power
Vegetative: 48" + / 50% Power (or 24" @ 25% Power)
Flowering:
Wk1-3 - @24-30""     / 50% Power
Wk4-6 @18" - 24"  / 75% Power
Wk7-8 @18" - 24"  / 100% Power
Wk9-10 @12" - 18" / 100% Power
Pro Tips: It's always best to set the light up higher and let the plants grow up into the light.
Slim 320S NextGen Components:
LEDs: 1,500 Total LEDs 
Samsung LM301H 
- 1,440 Top Bin Samsung LM301H Series LEDs - 3500k Mixed 3.14 umols/J
Bloom Enhancers:
Red LEDs: 40 pcs
- New! Samsung LH351H V2 660nm Deep RED LEDs 3.75 umols/j
Blue LEDs: 16 
- New! Samsung LH351H 450nm Royal Blue 

- 2.8 umols

                
Ultra Violet LEDs: 2 (slightly Dim Purple LED)
- LG UV LED - Proven Increased Resin Production and Potency of oils
Infrared LEDs: 2 (Dim RED LED) 
-Samsung H Series ir LED -
Optics: 120 Degree Primary Lens on all LEDs
Drivers: Meanwell Dimmable Driver 0%-100% 
Dimmers: 3 Independent Dimmers
Controller Tech: Fully Compatible - (*Touch Screen Controller is Sold Separately)
3 Way Dimmability - You can Control the 3 Dimmers Independently
Spectrum Control - 2 Way Spectrum Control, add more Blue and White or Red and white light independently or programmed in the timer mode.
Dual Port RJ-11 Controller hookup  - Daisy chain up to 20 lights
Thermal management: Passive Cooling from a significantly Overbuilt extruded Heat sink (Fanless Technology - No Moving Parts) 
*1 of the Coolest Operating Lights on the market
Spectrum:  (Updated Spectrum with stronger flowering performance)
Full Spectrum White Light 3500k (Mixed White Light LEDs) (Full Power on 2 dimmers)
+ 660nm Deep RED + 450nm Royal Blue + ultraviolet
 (Powerful Spectrum Control leads to healthier plants with lower stress level leading to higher overall production, yield, and flower quality)
PPF/w: 3.3 umols/J
Test in 2' x 4' Area: .6m x 1.2m = .72 Square Meters
PPFD Slim 320S gen3: 
(Tested with Apogee MQ-500 meter in 2x4 / .6m x 1.2m Tent @ 320w)  
6" Hanging Height PPfd: 
8" Hanging Height PPfd: 
Slim 320S Specifications:

Total LEDs : 1,500
Grams Per Watt: up to 3
Yield: Up to 896 grams / 32 / up to 2.0  lbs
HID/HPS equivalency: 750 watts HPS 
Kelvin: 3500K Day Light White 
IP Rating: IP65 Waterproof
LEDs Per Watt:  4.68 Collectively (5+ LEDs per watt LM301H)
PPFD @6": tba
ppf/w :  3.3 umols/J
Actual Max Power Draw: 320 watts max
Amps:  2.8 Amps at 120v ( 1.4 Amps @ 240v)
Voltage : Internationally Used 110 volts - 277volts (240v cord sold separately)
Lifetime: 100,000 Hours+  
Warranty: 7 Years warranty - 5 Years Full Warranty - 2 years Limited Warranty
Release Date: February 15th 2023
Light Fixture: 42" x 21" Vertical Farming Aluminum BAR Fixture
Cables: 6 detachable power cord 
Plug: USA, CANADA, EURO, Commercial, etc. (240v sold separately)
(We automatically ship the correct cord for your country)
Dimming: 3 Dimmer Knobs 0%-100%. 3-Way Spectrum Control 
Spectrum Control: 3 Dimmer Knobs 0%-100%. 2-Way Spectrum Control 
Touch Screen Master Controller: 2 ports, Fully Compatible. 3 Dimmer control 0%-100%
Fixture Dimensions: 42" x 21" x 4.5" 
Fixture Weight: 18 lbs (Aluminum Fixture + Driver Case)
Shipping Weight: 22 lbs
Hanger: Comes with 4 adjustable rope ratchet hangers.
Recommended for: Grow Tents, Grow Rooms, Greenhouses & Indoor Cultivations. 
*International Shipments may require Taxes & Duties. Contact us for a quote!
Sales@OpticLEDGrowLights..com - CommercialGrower@OpticLEDGrowLights.com 
Slim 320S Gen3 Patent Pending.
253-881-1355
 or 
inquire at Sales@OpticLEDGrowLights.com
 *Compatible with the Optic LED Master Controller ($149.00)
Also, check out our Instagram page for more videos @OpticLEDGrowLights @OpticLED
Videos:
Pictures: Slim 320S