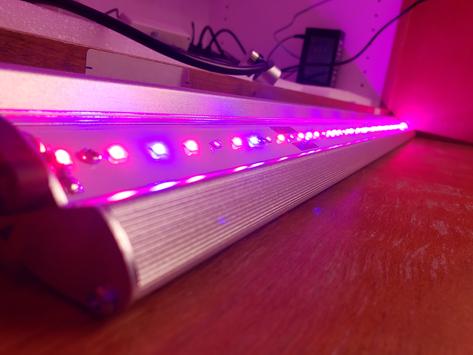 Slim 100 Bloom Enhancer - 100 watt Dimmable LED Grow Light (UV / IR)

Canada Orders: Ships from USA - $30 Import tax 
                                    Delivery is 3-6 Business Days from the USA
International Orders:
Ships in 1-2 Business Days
     Slim 100 Bloom Enhancers delivers a Mega load of Pure Bloom Enhancement Spectrum. Slim 100 is a long 42" LED Bar with 56 Total High Power Samsung Horticulture LEDs as well as a heavy Load of 12 Ultra Violet and infrared LEDs to help you produce the highest possible quality, potency, resin production & yield. If your looking to add some serious Ultra Violet Spectrum to your grow for maximum potency this is the Light for you. 
(250)-793-5100
or 
inquire at Sales@OpticLEDGrowLights.ca 
socialmediamanager@opticledgrowlights.com


Coverage Footprint:
Flower:                                           Veg:           
1' x 4' area (.3m x 1.2m)                   2' x 4' area (.6m x 1.2m)
2' x 4' area (.9m x 1.2m)  Max
Slim 100 Bloom Bar (100 watts)
LEDs: 56 Total
Samsung LH351H v2 Deep Red LEDs

Samsung LH351H Royal Blue LEDs
UV LEDs: 12 pcs LG UV LEDS
IR LEDs: 4 pcs Samsung LH351H
Significantly Overbuilt extruded bar Aluminum


Optics :
Samsung LM301H LEDS: 120 Degree Wide Beam Lens
CREE XPE LEDs: 120 Degree Wide Beam Lens
(No Secondary Optics)


Driver: Meanwell Dimmable Driver XLG - 150 - M - AB
Thermal management: Passive Cooling from a significantly Overbuilt extruded Heat sink (Fanless Technology - No Moving Parts) 
Spectrum: 
+ 660nm Deep RED + 450nm Royal Blue  + UV/IR
 ( Large Concentration of Ultra Violet on Top of Deed Red + IR+ Blue LEDs)
PPFD for 12" x 48" Coverage Area
PPFD: 594.75
Slim 100 Bloom Bar Specifications:
PPF/W: 2.4 umols/J
Grams Per Watt: up to 2.2
Yield: Up to 220 grams / 7.8 oz 
HID/HPS equivalent: 200w HPS
IP Rating: IP65 Waterproof
Actual Power Draw: 100 watts max
Amps: 1 Amp at full power
Voltage : Internationally Used 110 volts -277v
Lifetime: 100,000 Hours+  
Warranty: 10 Years full warranty - Lifetime warranty on Meanwell Driver 
Release Date: August 2020
Shipping: Free Shipping in Canada and to 60+ countries 
Light Fixture: 39" x 3" Vertical Farming Aluminum Fixture 
Cables: 6 Foot attached power cord 
Plug: USA, CANADA, EURO, Commercial, etc.
(We automatically ship the correct cord for your country)
Dimming: 0%-100% Dimmability (Dimmer is included)
Master Controller: None Compatible
Fixture Dimensions: 39" x 3" x 1"
Fixture Weight:  4.5 lbs (With Driver top-mounted)
Shipping Weight: 5 lbs 
Hanger: Comes with 2 adjustable rope ratchet hangers.
Recommended for: Grow Tents, Grow Rooms, Greenhouses & Indoor Cultivations. 
*International Shipments may require Taxes & Duties. Contact us for a quote!
Sales@OpticLEDGrowLights.ca


Driver: 100w Meanwell Dimmable Driver
Fixture Size : 42" x 3.2" x 1"
 Slim 100 Bloom Enhancer shown in this video