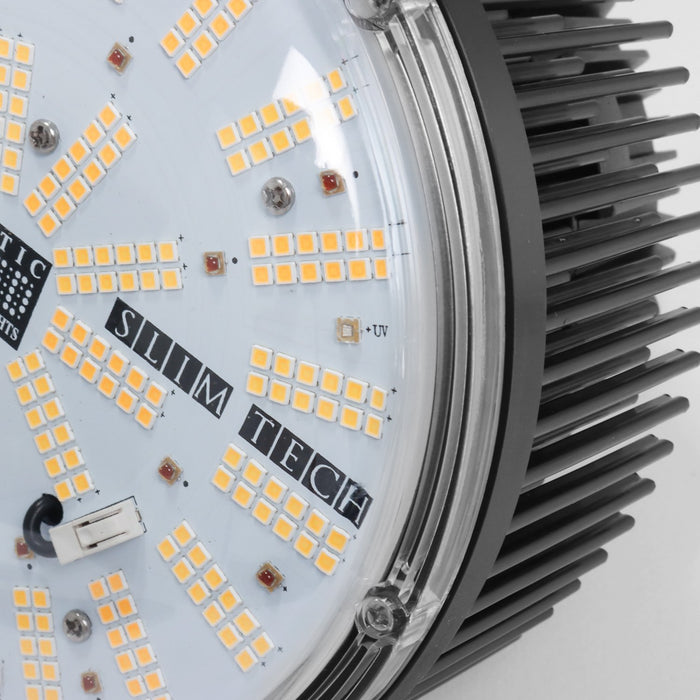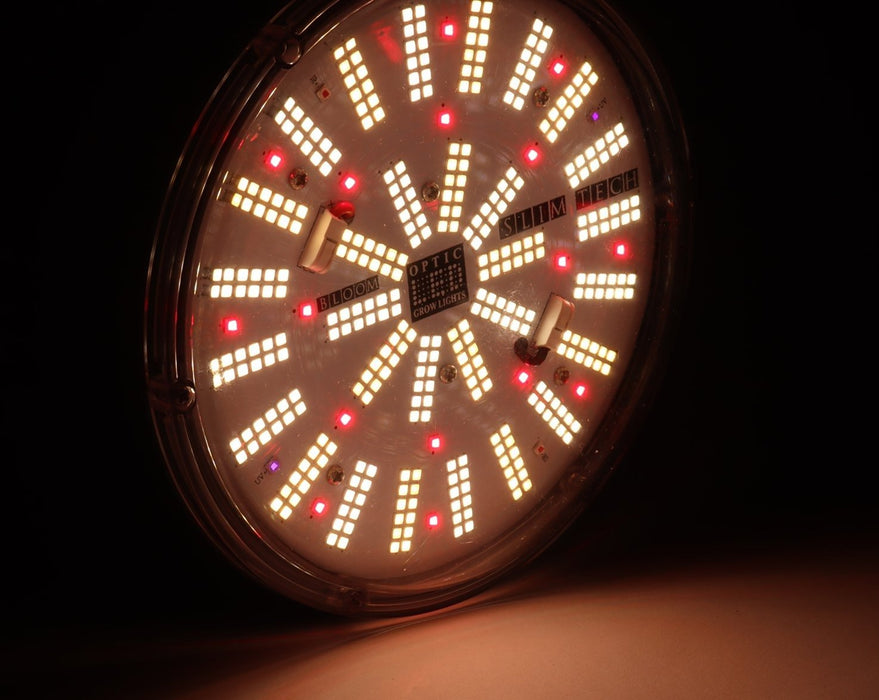 PhatSlim 1XL Bloom Dimmable LED Grow Lights (UV/IR)
 PhatSlim Bloom 1XL
Canada Orders: Ships from USA - $30 USD Import tax
International Orders: Ships within 1-3 Business Days


(Same day shipping on orders before 12 pm PST / 3 pm EST)


Secondary Acrylic Lens is now included for no additional charge. 
          PhatSlim Bloom 1XL is well equipped with the latest in high-end Samsung Horticulture LED Tech. Commercial grade fanless Meanwell 104 watt Dimmable Driver not only gives you reliability & efficiency but full control of your light intensity with dimmability between 10-100%. Overbuilt Optic XL anodized black, pin fin heatsink ensures the lowest running temperatures for low BTU output, maximum light production & increased lifespan.
          All NEW PhatSlim Bloom 1XL is loaded with 16 Version 2 Samsung LH351H v2 660nm Deep Red LEDs as well as 2 UV and 2 IR LEDs alongside the Samsung LM301H top tier ultra-efficient LEDs to give you a robust full cycle Spectrum, increased resin, maximum light production & big gram per watt yields. 
NEW! Samsung LH351H v2 - 3.75 umols/J


(250)-793-5100
or 
inquire at Sales@OpticLEDGrowLights.ca 
socialmediamanager@opticledgrowlights.com
Coverage Footprint:
Flower:
1 Unit                                               
2' x 2' area (.6m x .6m)                      
Max 2.5' x 2.5' (.75m x .75m)             
2 Units                                   4 Units
2' x 4' area (.6m x .1.2m)         4' x 4' area (1.2m x 1.2m)    
3' x 3' area (.9m x .9m)           Max 5' x 5' (.75m x .75m)  
Veg (1 unit)
2' x 2' area @ 24"
3' x 3' area @ 18" Hang Height (1.2m x 1.2m)
Hanging Height : 
Flower: 8"-18"    
Pro Tips: Wk1-3 @18"  -  Wk4-6 @14"  - Wk7-10 @8"-9" 
 10-100% Dimmer is included.
Dimmability: 
 Dimmed at minimum 10% Power.
 Turned up to 50% Power.
 Adjusted to 100% Full Power.
PhatSlim Bloom 1XL Components:
LEDs: 380 Total LEDs 
White LEDs: 
- 360 Top Bin Samsung LM301H (Mixed White LEDs)
Bloom Enhancers: 20
- 16 Samsung LH351H v2 660nm Deep Reds LEDs 
- 4 - 2 UV and 2 IR
Optics :
Samsung LM301H LEDS: 120 Degree Wide Beam Lens
Samsung LH351H LEDs: 120 Degree Wide Beam Lens
Standard: 120 Degree Acrylic Lens/Cover 
- All 372 LEDs have a primary Lens 
 Secondary Acrylic Lens/Cover provides additional protection and a more uniform 120 Degree beam angle. PAR Meter testing shows 5% higher PAR Values with no Acrylic Lens.


Driver: Meanwell HBG Series Driver
Thermal management: Passive Cooling from an Overbuilt Anodized black Pin Fin Heat sink (Fanless Technology) 
Spectrum: Full Spectrum White Light + 660nm Deep RED + UV/IR
Shown with product images
PPFD PhatSlim Bloom 1XL in 2x2 area (NO LENS)
(Tested at 8" Hanging height in 2x2/ .6m x .6m with Apogee MQ-500) 
8" Hanging Height PPFD:

 
803.31 ppfd x .36 Square meters (2x2 area)= 289.19
289.19 divided by 104 watts =
8" hanging height PPFD: 803.31
12" Hanging Height PPFD: 627.43
18" Hanging Height PPFD: 483.62
PhatSlim Bloom 1XL DIM Specifications:
Grams Per Watt: up to 2.8
Yield: Up to 291 grams / 10.4 ounces / .65 lbs
HID/HPS Equivalent: 250w HPS
Kelvin: 
IP Rating: IP65 Waterproof
PPFD @8" :
PAR Efficacy: 
Actual Power Draw: 104 watts max
Amps: 1 Amp
Lifetime: 100,000 Hours+  
Warranty: 10 Years full warranty - Lifetime warranty on Meanwell Driver
Release Date: Aug 2021
Shipping: Free Shipping in Canada and to 60+ countries 
Light Fixtures: PhatSlim Bloom 1XL Dimmable LED Grow Light
Cables: 6 Foot attached power cord 
Plug: USA, CANADA, EURO, Commercial, Industrial, etc.
(We automatically ship the correct cord for your country)
Dimming: 10-100% Dimming Capabilities (Dimmer Included)
Dimensions: 7" x 7" x 8"
Fixture Weight: 8 Pounds
Shipping Weight:  9 Pounds
Hanger: Comes with adjustable rope ratchet & Large Carabiner.
Recommended for: Closet Grow, Cabinet Grow & Grow Tents.
*International Shipments may require Taxes & Duties. Contact us for a quote!
Sales@OpticLEDGrowLights.com  - PhatSlim Bloom 1XL Patent Pending.
The industry's only 10 Year Warranty!
Pictures: