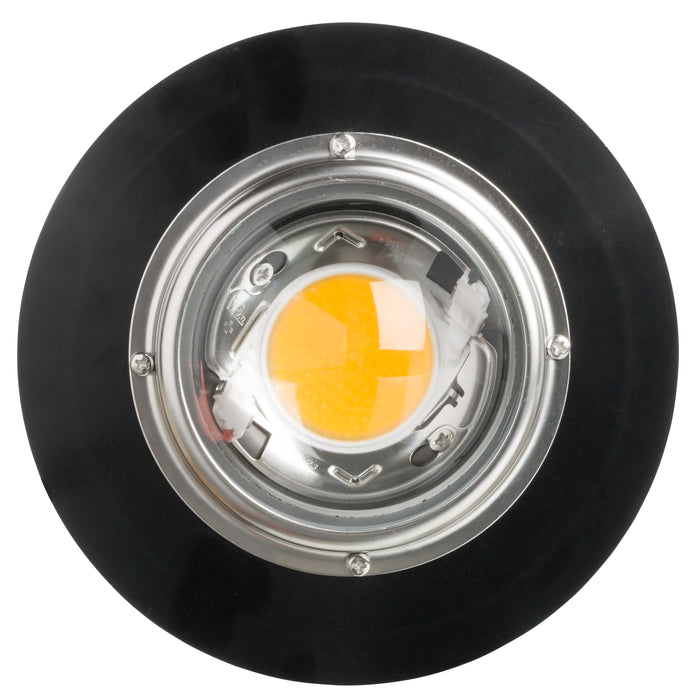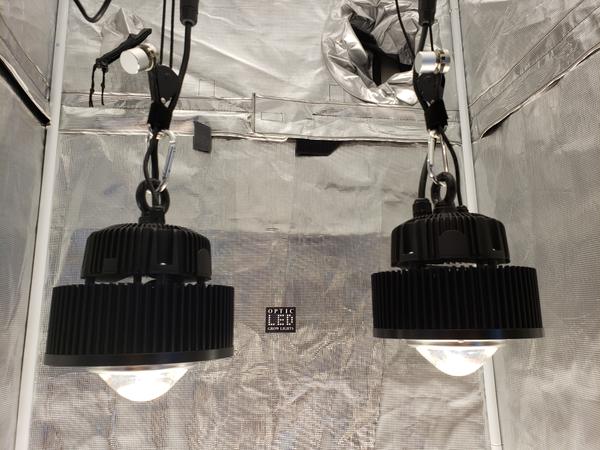 Optic 1 XL Dimmable COB LED Grow Light 100w 3500k COB
Canada Orders: 
Ships from USA - $30 Import tax 
                                    Delivery is 3-6 Business Days from the USA
International Orders: Ships within 1-5 Business Days
               Optic 1 XL Dimmable COB LED Grow Light utilizes the highest quality components in COB LED Tech today. Starting with CREE's most efficient and proven highest yielding COB LED Chip to date the USA Made X-Lamp CXB-3590. CREE's COB LED chips last forever and CREE is backing every one of their COBs with a lifetime replacement warranty. The Xlamp CXB3590 is still 1 of the most efficient LED technologies on the market boasting powerful PPFD numbers helping to propel your garden to the next level. CREE's Full Spectrum white light technology not only delivers the Spectrum your plants will love and absorb easily but also illuminates your grow in a 3500k Daylight White overall color temperature making your plants appear green just as they are in mother nature. 
            The ultimate in Low Key growing with fanless technology delivers a noiseless operation that keeps you flying under the radar. Optic 1XL cooling system has been overbuilt by more than 25% to help the light run cooler, Shine brighter & last longer. Industry-best, commercial-grade Meanwell dimmable driver pumps 100 true watts of high power growing through CREE's USA Made COB LED Chip. Modern-day glass lens technology allows us to spot beam every photon generated into our desired coverage area while giving you unprecedented canopy penetration resulting in more developed flowers deeper into your canopy and higher-end yields. 
Optic 1XL - Optic 1XL Dimmable & Bloom Enhancer Review
(Click on "watch on youtube" to play)
(250)-793-5100
or 
inquire at Sales@OpticLEDGrowLights.ca 
socialmediamanager@opticledgrowlights.com
COB: CREE XLAMP CXB3590 3500k Top Bin (USA Made)
Coverage Footprint:
Flower:
2' x 2' area (.6m x .6m)
Max 2.5' x 2.5' (.75m x .75m)
Veg
4' x 4' area (1.2m x 1.2m)
Hanging Height with 90-degree lens: 
Flower: 18"-24"
Veg: 24"-30"
Seedling: 30"-36"
LENS: 90-degree comes standard 
High-quality Glass Optics can magnify PAR Output and increase Canopy penetration by up to 200%. 
Optic 1XL Components:
LEDs: CREE XLAMP CXB3590 (stainless steel solderless COB holder)
Thermal management: Passive Cooling from an XL Overbuilt Anodized black Pin Fin Heat sink (No Fans)  
Driver: Meanwell 100 watt Dimmable 
High-Quality Glass Optical Lens:
Optics: 90 Degree Lens (120-degree lens available)
Spectrum: Full Spectrum White Light Technology @ 3500k daylight white
PPFD (Average PAR) Optic 1 XL: 
(Tested on Optic 1XL non-dimmable with Apogee MQ-500)
PAR Efficacy: 
2' x 2' Area: .6m x .6m = .36 Square Meters
549 ppfd x .36 Square meters (2x2 area)= 197.64
197.64 divided by 100 watts = 1.97 PAR Efficacy / (ppf/w)
2' x 2' Area @16.5" Hanging Height PPFD: 549
2' x 2' Area @18" Hanging Height PPFD: 503
Optic 1XL DIM Specifications:
HID/HPS Equivalent: 250w HPS
Thermal Management: Passively cooled with Pin Fin Heatsink (anodized black)
Fixture Dimensions: 7" x 7" x 10"
CRI: 80
Kelvin: 3500K Day Light White
Dimming: 10 - 100%
PPF/Watt: : 1.97 umol/J
PPFD: 549 (@16.5")
Actual Power Draw: 100 watts
Amps: 1 amp
COB Max Power: 137 Watts
Grams Per Watt: Up to 2.2 
Yield: Up to 220 grams / 7.85 ounces
Finish: Anodized Black
COB Holder: Solderless 
IP Rating: IP65 Water Resistant
Fixture Weight: 8 Pounds
Shipping Weight:  9 Pounds
Product includes: 120v power cord, 1 Rope Ratchet Hangers & LED Fixture. (120v-240v power cords available, we automatically ship the correct power cord for your country)
Warranty: 10 Years
Release Date: Feb 2020
Life Expectancy: 12+ Years
Packaging: Plain brown discrete packaging with no labels.
(*Taxes & Duties will be required on shipments outside of N. America)
Shipping: Free shipping in Canada and to 60+ countries 
*Special Shipping designations are listed at the top.
Recommended for: Grow Tents, Grow Rooms, Greenhouses & Indoor Cultivations. 
*International Shipments may require Taxes & Duties. Contact us for a quote!
Sales@OpticLEDGrowLights.ca
Videos & Pictures
     120 Degree Lens              vs       90 Degree Lens 
     Wider & more round                   Taller & more of point
Packaging - Plain Brown Box with no labels and Thick Foam mold protects the light